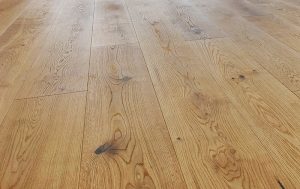 Wooden floor from oak creates a cosy home atmosphere, gives you the opportunity to feel the warmth of natural wood under your feet, it is timeless and adds value to your house.
You can choose from a wide range of colours that create a unique contemporary style: from gently bleached oak to dramatically rich cognac or combed aged floorboards. Human creation only complements the design of nature: boards without branches (Selected), with fewer branches (Classic), with more branches (Rustic), with fewer branches and white spots (Modern) or with branches and white spots (Loft).
Do not limit your wishes and plans, our craftsmen at Ecowood factory in Vilkija will satisfy even the most demanding customers. We produce and adjust according to individual requests and orders.
We recommend not only solid oak wood, but also engineered two-layered or three-layered floorboards that have maximum stability, ideal for underfloor heating. All details match and are perfectly accurate: the plinths create the impression of completeness, harmoniously join together the planes of the walls and the floor.
We use only the wood of the highest quality from mature oaks that are more than 100 years old, we receive wood products from our sawmill. This is how we control the whole process responsibly. Our wood blanks are dried in Belgian condenser-type dryers. We choose the slowest drying mode and we constantly control the temperature and humidity. In production, we use only the organic materials of the highest quality. We recommend oiling the floorboards. We use quality German oil that preserves the natural texture of the wood and does not contain aggressive chemicals – it is even used for wooden children's toys. The floor is easy to maintain, it is a friendly and safe environment for a human. Our products are also highly appreciated by customers from all the European Union and other foreign countries.
All products are covered by warranty and post- warranty service. For the convenience of the customers, "Medžio stilius"" salons are located in all major cities of Lithuania.
"Medžio stilius" wooden flooring can also be purchased in instalments.
We consult, answer all questions, help you choose and install not only the wooden floor, but also oak stairs or oak doors.
Our reliable and skilled craftsmen will lay the floor on request. The works are carried out in all parts of Lithuania.
"Medžio stilius" floor will serve you for decades…