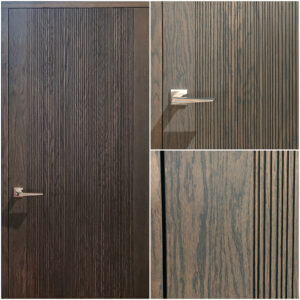 Wooden interior doors made of oak provide the interior with a distinctive charm, warmth and cosiness. Depending on the texture, colours and design, oak can create an elegant and graceful interior, perfectly blend in with the Rustic style or become a unique detail in a modern interior.
They create the impression of luxury, sedateness, as oak is associated with power, solidity, and nobility. Such doors are lasting, resistant to external factors, and durable.
Oak interior doors is a perfect combination of classics and quality.
In our factory Ecowood we use only the wood of the highest quality from mature oaks that are more than 100 years old from our own sawmill and we responsibly control the quality from the very beginning of the production process. Wood blanks are dried in Belgian condenser-type dryers. We choose the slowest drying mode and we constantly control the temperature and humidity. In production, we use only organic materials of the highest quality. Our products are also highly appreciated by customers from all the European Union and other foreign countries.
All products are covered by warranty and post-warranty service.
For the convenience of the customers, "Medžio stilius" salons are located in all major cities of Lithuania.
Our product range includes a large selection of oak interior, room, and sliding doors, that even the most demanding customer will find the right one for their home. The colour range is very wide, so you will find what works best for your interior, matching the floor and the stairs. Wooden interior doors can come with or without glass. The door with glass visually makes the living space more graceful and elegant.
If you are not sure which wooden interior door you should choose, "Medžio stilius" team is ready to help and answer all your questions. Inform us about your needs and vision, and we will offer the best solution for your interior.
Wooden doors by "Medžio stilius" can also be purchased in instalments..
We consult, answer all questions, help you choose and install not only the wooden floor, but also oak stairs or oak doors.
Our craftsmen will install your door on request. The works are carried out in all parts of Lithuania.
We will help you make your home cosy, stylish, comfortable, and radiating the warmth of 100-year-old oaks.