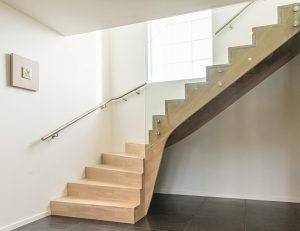 Wooden stairs made of oak is the axis of the house like a tree itself lifting the branches up.  The stairs are not just a function, they are a part of the style. Stairs create cosiness, open up unexpected spaces, connect the "top" and the "bottom".
Choosing the stairs for your home is a responsible decision. Only the right high-quality oak stairs will give your house comfort, solidity, value, convenience, and style.
Our customers appreciate the individual, exclusive style, so they have been enjoying the highest quality oak stairs customised especially for them and complementing the overall style of their home for over 10 years.
You can choose from a wide range of colours that create a unique contemporary style: from gently bleached oak to dramatically rich cognac or combed aged floorboards.
We will match the colour of the stairs to the oak floor. Or maybe you would like an interesting contrast? We will always consult you and give you a wide range to choose from.
For manufacturing the stairs we use only the wood of the highest quality from mature oaks that are more than 100 years old, we receive wood products from our sawmill. This is how we control the whole process responsibly in our factory Ecowood. Our wood blanks are dried in Belgian condenser-type dryers. We choose the slowest drying mode and we constantly control the temperature and humidity. In production, we use only the organic materials of the highest quality. The stair-steps can be covered with oil or varnish.
At the Ecowood factory, intelligent robotic machines shape even the most complicated stair constructions – don't limit your imagination and needs. The stair-steps, the construction, and decorative elements of the stairs are accurately cut and shaped according to the drawing. Manufactured and customised to meet individual requests and orders. Our products are also highly appreciated by customers from all the European Union and other foreign countries.
All products are covered by warranty and post-warranty service. For the convenience of the customers, "Medžio stilius" salons are located in all major cities of Lithuania.
Our reliable and skilled craftsmen will install your stairs. The works are carried out in all parts of Lithuania.
"Medžio stilius" wooden stairs can also be purchased in instalments.
We consult, answer all questions, help you choose and install not only the wooden floor, but also oak stairs or oak doors.
You will enjoy the stairs by "Medžio stilius" for years…